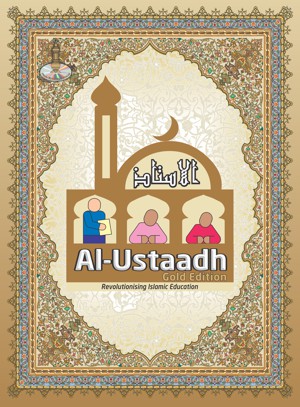 FEATURES
· Easy to use
· Designed using a tried and test madressa syllabus.
· Easy point and click interface.
· Powerful, user friendly, easy to use interface
· You don't need a degree to use this program.
· Designed with the non-technical computer user in mind.
TOPICS COVERED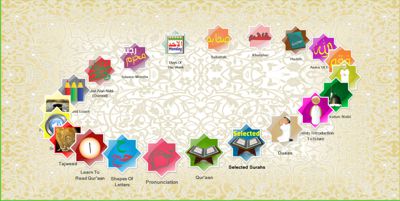 Learn To Read Qur'aan
· Unique PHONETIC method of learning to recite the Qur'an
· Used by madaaris throughout the world including the United Kingdom, Australia and Southern Africa
· Used by the largest madaaris organisation as well as most Islamic schools in South Africa.
· The method of tuition was developed by a graduate of world renowned Al-Azhar University in Cairo and is in use for over 30 years
· Proven to teach the recital of Qur'aan faster than traditional methods.
· With sound
· Shapes of letters
· Pronunciation videos

Al Qur'aan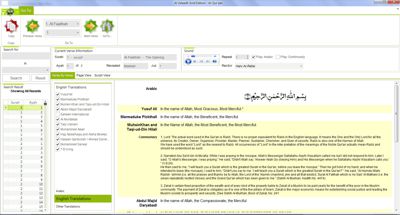 · 16 complete recitations:
o Mahmoud Khalil Al-Husary
o Ali Al-Hudaifi
o Abdullah Basfar
o Ibrahim Al-Akhdar
o Mohammed Ayoub
o Mishary bin Rashid Al-Afasy
o Muhammed Jebril
o Ahmed Al-Ajmy
o Saad Al-Ghamdi
o Mohammed Siddiq Al-Minshawi
o Abdulbasit Abdussamad (Mujawwad recital)
o Maher Al Muaiqly
o Hani Ar-Refai
o Abu Bakr Shatri
o Saud Al-Shuraim
o Abdul Rahman Al-Sudais
· 12 English translations of the Qur'aan including:
o Yusuf Ali
o Marmaduke Pickthall
o Muhsin Khan and Hilali
o Adbul Majid Daryabadi
o Taqi Usmani
o Saheeh International
o And others
· Other languages include
o Malay
o Indonesian
o French
o Spanish
o Dutch
o German
o Urdu - Ahmed Ali
o Urdu - Jalandari
· Two "text" scripts of the Qur'aan:
o Uthmani (used in the Arab world)
o Nastaleeq (used in the IndoPak and Southern Africa)
· Two "image" scripts
o Uthmani and Nastaleeq
o approved by the Holy Qur'aan printing press in Madinah.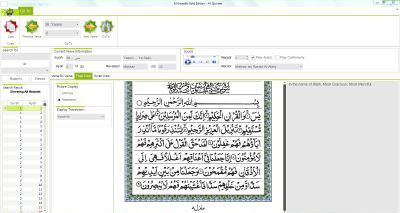 · Verse by Verse view
· Page view
· Surah view
· Search facilities
Selected Surahs
· Complete Juz Amma with colour coded tajweed script.
· Listen to any verse in any one of 16 recitals.
· Includes two special Muallim (Learning) recitals by Sheikh Husri and Sheikh Basfar
· Simple, point and click to learn
Adiyaah (Duaas)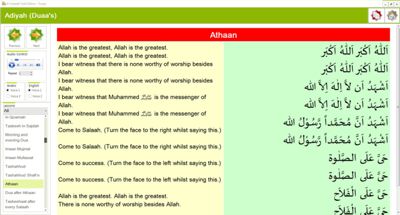 · Kalimas
· Over 140 duaas including the sleeping and waking duaas, eating duaas, fasting, model duaas, etc
· Recital of Arabic in two voices
· Recital of English in two voices
· Simple, point and click to learn
· View by subject or grade level
Adhaan, Wudhu, Salaah
· According to Imam Abu Hanifa (RA) and Imam Shaafi'e(RA)
· Fiqh on Wudhu
· Method of Performing Wudhu
· Du'aas

· Method of Salaah
· Table of Salaah (Rakaah chart)
· What to read in salaah
· Sequence
· Some special salaah
· Over 70 minutes video
· Adhaans from the holy harams and other parts of the world
Salat Alan Nabi (Durood)
Rules of Tajweed
Islamic Clipart / Pictures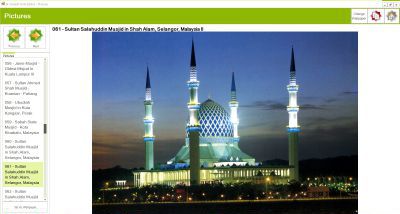 · Over 130 images
· Can be used as Windows Wallpaper
Colouring Book
· Colour and learn Asma Ul Husna
· Fully interactive

Asma-ul-Husna - The Attributes of Allah
· With sound for each attribute
· Various recitals of the Asma-ul-Husna
100 Ahadith

Multimedia
· Various anasheed and duaa
· Various recitals from Al-Qur'aan
· Juz Amma Learning Recital with Sheikh Mishawi
· Videos
Islamic Months and Days of the Week
A Child's Introduction to Islam
· Includes lessons, questions and answers
· Lessons based on different levels
· Includes level 1, 2, 3 and 4
Seeratun Nabi
· Includes lessons and questions
· Lessons based on different levels - includes level 1, 2, 3 and 4
Sahabah
· Biographies of Some Sahabah
· Anecdotes (stories) on the Sahabah
Khulafaa

· Abu Bakr (RA)
· Umar (RA)
· Uthman (RA)
· Ali (RA)
Beautify Your Character
· Beautify your character
· Some anecdotes on beautifying your character
Fiqh
· Cleanliness
· Istinjaa
· Tayammum
· Ghusl
· Marriage
· Qurbani
· Death and Burial
· Other Fiqh
· Zakaah
· Fasting
· Hajj
A MUST FOR ...
· Every Muslim Home
· Children
· Teachers
· Students
· Ulama
· Imaams
· Hufaaz
· Madrassa's
· Islamic Organisations
IDEAL AS ...
· An aid for madressah studies
· A gift of knowledge
· Graduation gifts
· Jalsa prizes
· Investment in a child's future
· An educational alternative to games
· Ideal for "new" Muslims

SYSTEM REQUIREMENTS
· OS: Windows 7 / Windows 8 / Windows XP (SP3) / Windows Vista (32 or 64 bit)
· Processor: Dual Core, I3 or higher
· Drive: DVD-ROM Drive and Hard Disk (at least 1GB free)
· Memory: Minimum 1GB (Preferably 2GB or more)
· Other: Mouse, Sound Card, Minimum Graphics Resolution 1024 x 768
· Please note this product requires an internet connection for activation. Licensed for 1 computer